Rhonda Buckner with Buckner Homes Realty
3200 SE 20 Ave. Ocala, Florida 34471
352-266-2637
Here is Zillows latest update on 30 year fixed mortgage rates
Mortgage rates for 30-year fixed mortgages fell this week, with the current rate borrowers were quoted on Zillow Mortgage Marketplace at 3.4 percent, down from 3.46 percent at this same time last week.
The 30-year fixed mortgage rate hovered between 3.42 and 3.47 percent for the majority of the week, dropping to the current rate this morning.
"After remaining steady for the past week, rates moved slightly lower yesterday after Italian election results renewed concerns about Eurozone economic stability," said Erin Lantz, director of Zillow Mortgage Marketplace. "This coming week, rate movement will depend on sequester discussions in the United States and perceived political tensions in Italy and elsewhere in the European Union."
Additionally, the 15-year fixed mortgage rate this morning was 2.64 percent, and for 5/1 ARMs, the rate was 2.27 percent.
What are the rates right now? Check Zillow Mortgage Marketplace for up-to-the-minute mortgage ratesfor your state.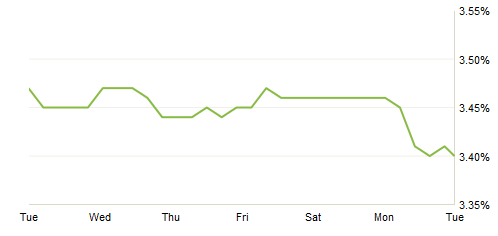 *The weekly rate chart illustrates the average 30-year fixed interest in six-hour intervals.
Give Rhonda a call to help you find that perfect home and to discuss the options that buyers have. As always you can search for homes in Florida at www.BucknerHomes.com . I am always here to help you.
Just call and say Help Help me Rhonda 352-266-2637